Welcome to The Grimoire of Gaia Wiki 
Grimoire of Gaia is a Minecraft mod created by Silentine. This wiki serves as a catalog of information regarding the contents of the mod. It is regularly updated with each new version released.
Content
Activity Feed
Version
Wikia Status: Out-of-Date
Latest release: Grimoire of Gaia 3 (1.5.6) for Minecraft (1.10.2)
Wikia support: Grimoire of Gaia 3 (1.5.5) for Minecraft (1.10.2)
Videos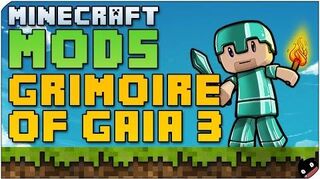 Newest articles
These are the newest articles that have been added.
Loading RSS data...
Ad blocker interference detected!
Wikia is a free-to-use site that makes money from advertising. We have a modified experience for viewers using ad blockers

Wikia is not accessible if you've made further modifications. Remove the custom ad blocker rule(s) and the page will load as expected.